Those who attend the 27th Annual Western Area Rally in Indio, Calif., Jan. 7 to 11 will be treated to demonstrations of one of the fastest-growing sports in North America –  pickleball, which combines elements of tennis, badminton, and Ping-Pong.
At the Indio rally, Brooke Siver from racquet producer Manta World Sport will be on hand to promote pickleball fundamentals and fun.
Join Brooke on Wednesday, January 7, at 10 a.m. and see firsthand why this sport with the funny name has caught on with the motorhome crowd.
Still need to register for the Western Area Rally?
Register online
Call: (800) 543-3622
Download the registration form (PDF)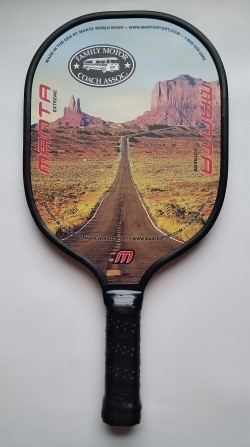 An FMCA-logo pickleball paddle created by Manta World Sport.