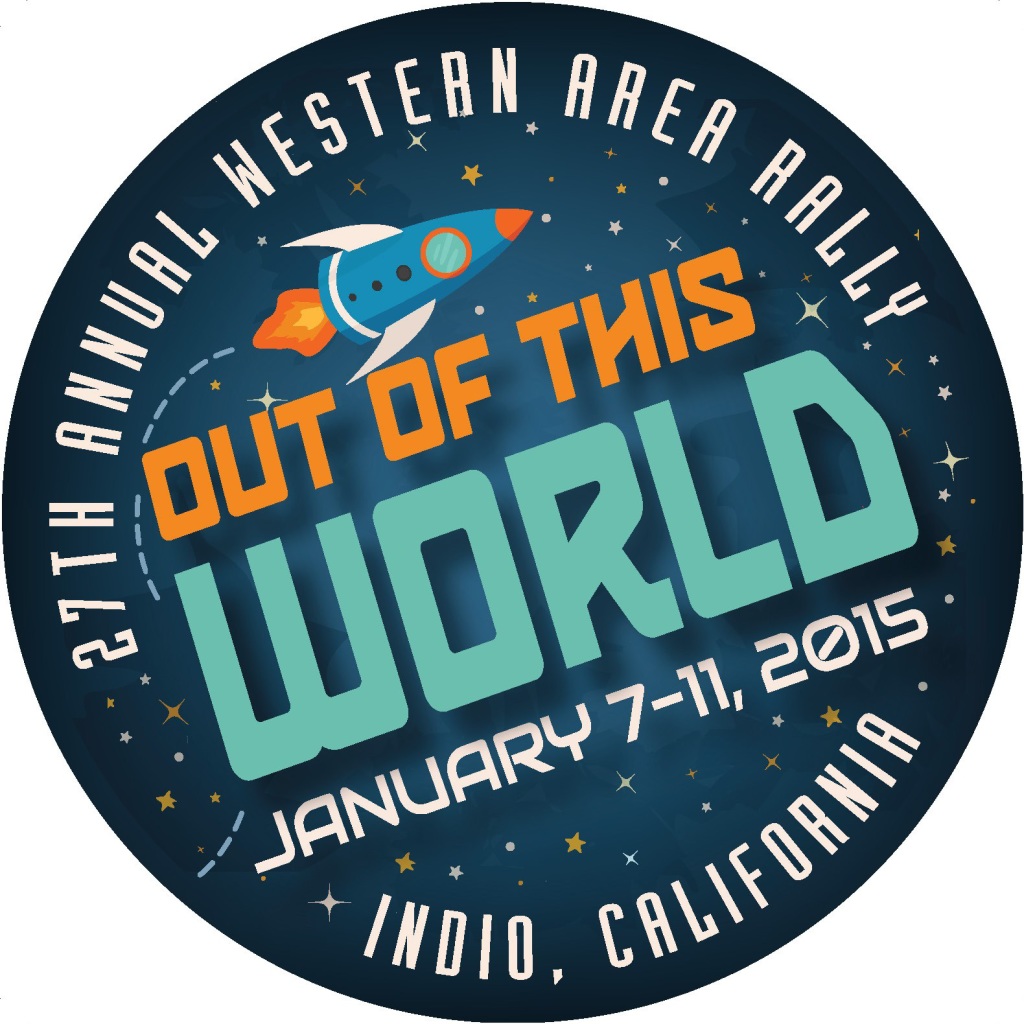 OUT OF THIS WORLD
27th Annual Western Area Rally
Riverside County Fair and National Date Festival
Indio, California January 7-11, 2015
WINDSHIELD PLACARD: The large windshield placard that comes in your credentials packet acknowledges your registration, indicates to security and parking personnel that you have paid, and must be displayed at all times. If you decide to leave the grounds in your motorhome for any reason, you must display this window placard to re-enter.
TOW CAR HANGER: This hanger in your credentials packet should be displayed from the rear view mirror of your tow vehicle. When returning to the grounds in your tow vehicle, you must display the tow car hanger in order to re-enter.
EMERGENCY LOCATOR CARD: After you have been parked, please fill out your locator card (in your credentials packet) and turn it in at the Welcome / Information Desk in the Fullenwider Building (building 9).  This locator card is the only means we have of finding you in the event of an emergency or if friends want to know where you are parked. Please be specific about your location (check signs posted near your location.)  Also, please check to be sure that your coach license plate number is printed clearly.
NAME BADGES: Name badges (in your credentials packet) must be worn to gain admittance to the exhibit areas and all other activities. There is a space on the back of the badge to indicate emergency information and your coach location.
WESTERN AREA SOUVENIRS: Hatpins are your mementos of the Indio rally. You will receive them when you pick up your Welcome Bag at the Welcome Tent. If there is a sufficient supply, the hatpins will also be available at the Information Desk at the Fullenwider Building 9 for a cost of $2.00 each.
COFFEE & MUSIC IN THE MORNING: Early morning coffee, donuts/rolls or muffins will be offered for your enjoyment while the Frustrated Maestros entertain you with their music.
FIRST-TIME ATTENDEE RIBBONS: If you indicated on your registration form that you are attending your first Western Area Rally, we will enclose red First-Time Attendee ribbons in your credentials packet. These attach to your badges so experienced members can recognize you and be available to answer your questions.
FIRST-TIME ATTENDEE ORIENTATION: A meeting will be conducted for all first time attendees on Wednesday, January 7, 2014, in the Fullenwider Building 9 at 12:30 p.m.
CHAPTER FAIR: There will be a Chapter Fair, Wednesday, January 7, 2015, at the Fullenwider Building 9 at 1:30 pm.
BINGO: Wednesday, January 7, 2015. $500 Blackout game prize. 7:00 pm
PARADE: Thursday 4:00 pm, Colorful parade designed around the Rally Theme with floats, chapter representatives, Western Area & National Officers.
OPENING CEREMONY: Thursday, January, 8, 2015 at 7:00 pm. Current rally announcements and updates, National & WMHA Officers are introduced. Chapters & volunteers are acknowledged.
 LADIES TEA & FASHION SHOW: There will be a Ladies Tea and Fashion Show on Friday, January 9, 2015, at 1:00 p.m. – 3:00 p.m. (doors open at 12:30 p.m.) with entertainment & door prizes. Ticket price is $2.00.
TWO ICE CREAM SOCIALS: Friday – 12:00 pm & Saturday – 12:00 pm in the stage area.
PET TALENT SHOW: There will be a Pet Talent Show Saturday, January 10 at 1:00 pm in the stage area.
ARRIVAL PROCEDURES
DIRECTIONS:
From I-10 East or West take the Monroe Street exit 142 and exit south. Go three (3) miles on Monroe to Avenue 48. Turn left and go ½ mile on Avenue 48 to Arabia Street. Turn left on Arabia to the Arrival Area which will be on your right.
ARRIVAL AREA/PARKING: Arrival Area parking hours begin Sunday, January 4, 2015, at noon and end at 4:30 p.m. Parking hours will continue daily from 8:00 a.m. until 4:30 p.m. The WMHA Parking Crew will be on duty to assist you upon your arrival. If you arrive before January 7, 2015, you will be charged $20.00 per night camping fee, payable by check or cash. There will be no early arrivals before January 4, 2015.
If you registered for Handicap Parking, you must display your valid DMV issued sticker/tag.
If you have a tow vehicle, the parking crew requests that you unhook it in the Arrival Area so this does not hold up the parking operation once you have been taken to your assigned parking site.
If you wish to park close to friends, you and your friends must arrive together with appropriate admittance credentials. All coaches in the caravan must have the same parking credentials. Please identify your party by placing, in each coach, a piece of white 8 1/2" x 11" paper that has the last name of one of the members of your group followed by the position each motorhome occupies in your party (Smith 1 of 3; Smith 2 of 3; Smith 3 of 3, etc.) written in a heavy, black marking pen. These should be in the lower left-hand corner of the driver's side of your front windshield.
MAIL: You may pick up your General Delivery mail from the Indio Post Office, located at 45805 Fargo Street, Indio, CA 92201
Phone: (760) 347-2092