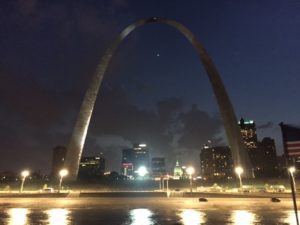 Presidents Notes…
July 22, 2017
Hello from St. Louis, IL.
This week there has been office changes at FMCA HQ's. Chris Smith, Exec. Dir., announced on Friday that Jason Gabbard was promoted to IT Director. Jason has been doing an outstanding job in the IT Dept. for a number of years, and it comes as no surprise to me of his promotion. Congratulations Jason. Another change was made on Friday, this time to our department structure. Chris announced, and also effective immediately, that our sales team will be a separate department from our communications department. John Renda currently heads up the sales dept. with the title of Sales Director. John will operate the Sale Department as it's own division within FMCA. Congratulations John.
On August 9-12 Christine and I will be attending the Midwest Area Rally in Amana, Iowa. This is really a nice fun rally which comes 3-4 weeks after the Convention. You can find information about the rally at FMCA.com and click on the Chapter/Areas tab.
We are taking the long way to Amana Rally. Last night Christine and I went on a Dinner Cruise on the Mississippi River. Food was good, music was good, the sights were good (see picture below), and the humidity was high! We had a great time.
The WMHA registration sheet for the 30th Annual Indio Rally will be available online this coming week. Everyone will be notified by an e-blast. The registration will also be available in the Oct., Nov., and Dec. FMC magazine. We will also be featuring HAND DIPPED ICE CREAM before Thursday night entertainment.
We are staying at the Casino Queen RV park across from the Arch on the Illinois side. They give discounts to FMCA members.
Everyone stay safe on your summer travels.
Sincerely,
Lon
_____________________________________
Lon Cross, F233066
FMCA National VP, Western Area
President, Western Motor Home Assoc.